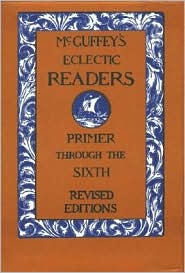 We visited
Rocky Ridge Farm
last Friday. It is one of those places that you need to go as many times as you can, because it is so wholesome and refreshing and filled with the warmth and spirit of its erstwhile inhabitants. I miss Almanzo and Laura and Rose.
The gift shop there is definitely browseable. Our big find this trip was McGuffey's First Eclectic Reader and McGuffey's Eclectic Spelling Book. I bought them with glee. In fact, I am tempted to chuck all of the books and curricula that I've purchased so far for Sadie and homeschool from McGuffey's alone. These are some kick-ass school books.
I've had McGuffey's Fifth Eclectic Reader since I was in fifth grade. My dad bought me a copy on one of our many trips to Knott's Berry Farm. They used to have a replica one-room schoolhouse at the amusement park, and it was one of my favorite spots. So, Dad gave me a copy of McGuffey's. I promptly drew some horses on the inside cover and forgot about the book.
Looking at it now, I can see why. This book is intense! Tiny print, few pictures, elaborate text -- tons of stuff crammed into one small book. I must have been completely intimidated by it when I was ten. Now, though, I can appreciate it. There are so many good essays, poems, and stories inside. There is a strong, unabashed Christian faith that informs the selections. It is a fascinating piece of history, right in my hands.


And now, I have two of the young-un books for Sadie. They are a nice size -- easy for little hands to hold. The first reader's print is sufficiently large. The lessons are short. It seems like an ideal addition to her education.

My dad, who drove us to Mansfield, MO, looked at the Fifth Reader and said in wonderment, "This is what fifth graders read in the 19th Century? I don't think many high school students could get through this today." That's true. But, children started school much later in the 1800's. Laura did not start until she was eight. I think that progress was much more individualized -- you studied in classes, rather than in grades. So, it was not necessarily ten-year-olds reading McGuffey's Fifth Eclectic Reader.


I mentioned on the drive home that Laura had been a school teacher. My dad, still thinking in the 21st Century said, surprised, "Oh! Did she go to college?"


I said, "No, she just took a teaching examination, and they gave her a certificate."


My dad paused and reflected, "I guess with school books like those, they did not really need college."

If Sadie can learn in the way that Laura did -- to use her mind in such a productive, creative, structured, diligent way -- then she will have no problems tackling any challenge in life, with or without college. And, if McGuffey's can help inspire that, then this was a worthy purchase, indeed.