You can thank
Joelle
for this one: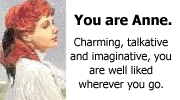 Which L.M. Montgomery Heroine are You?
Why, thank you very much!
Anne Shirley*
Stemming from a single line in a note-book: "Elderly couple apply to orphan asylum for a boy. By mistake a girl is sent to them," arose a book that put Canadian literature and Prince Edward Island on the map. Montgomery worked on writing the story for eighteen months, and experienced rejection after rejection. Anne of Green Gables was at last published by L. C. Page Company of Boston in June of 1908.
It was instantly popular, appealing to a larger audience than the young girls it was geared towards. Mark Twain wrote to Montgomery saying in Anne she had created "the dearest, and most lovable child in fiction since the immortal Alice." A sequel was almost immediately demanded. Montgomery continued to write about Anne Shirley for the rest of her lifetime, and her career is irrevocably tied to her success with Anne.
Displaced, orphaned, alone, Anne weaves her way into he hearts of not only the fictional characters she comes across in Montgomery's plots, but also, and most importantly, the readers. Nearly one hundred years later, her worldwide appeal is untouched.
The Anne of Green Gables series is composed of eight books (the following contains spoilers, please do not read them if you haven't read the books and don't want them spoiled):
1)
Anne of Green Gables
- Anne finds her home with Matthew and Marilla Cuthbert at Green Gables
2)
Anne of Avonlea
- Anne teaches at the Avonlea school
3)
Anne of the Island
- Anne goes to college and becomes engaged to Gilbert
4)
Anne of Windy Poplars
(Anne of Windy Willows) - Anne teaches and writes letters to Gilbert from Kingsport
5)
Anne's House of Dreams
- Anne and Gilbert move to their "house of dreams" and she becomes a mother
6)
Anne of Ingleside
- Anne and Gilbert's family is complete
7)
Rainbow Valley
- The focus shifts to Anne's children as they grow up
8)
Rilla of Ingleside
- Focuses on Anne's daughter Rilla Blythe during WWI
*From
The L.M. Montgomery Resource Page
***UPDATE***
And here's why I fell in love with Jason -- his quiz results: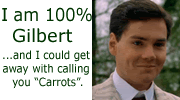 How Gilbert are You?